Who We Are
The Commonwealth Chief Diversity, Opportunity & Inclusion Officer with a stronger and more focused role on promoting ideas, policies, and economic opportunities for disadvantaged Virginians, including Virginians living with disabilities and bringing Virginians of different faiths together.
Martin D. Brown, Chief Diversity Officer, Commonwealth of Virginia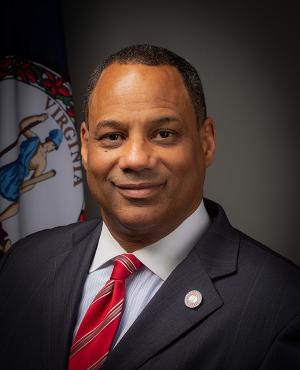 Martin D. Brown currently serves as Chief Diversity Officer and Director of the Office of Diversity, Opportunity, and Inclusion under Governor Glenn Youngkin. Chief Brown has extensive experience working in the private sector and state government, serving in senior executive positions for three previous Governors.
As Commissioner of the Virginia Department of Social Services, he led and managed over 1,700 employees in 120 locations, overseeing the development of an online customer portal, safe reductions of children in foster care, and increases in adoption, as well as the development of a practice model strengthening Virginia's families at every client contact. As Advisor to the Governor for Prisoner Re-Entry & Family Re-Integration, he established a best-practice family-strengthening program, now expanded statewide. As Policy Advisor to the Governor – he coordinated the state visit of Mrs. Coretta Scott King and the recognition of Martin Luther King, Jr. as the first African American permanently memorialized on Virginia's Historic Capital Square. While serving as Assistant Secretary of Health and Human Resources, Chief Brown helped lead Virginia's welfare reform effort.
In addition to his public sector experience, he has worked with hundreds of diverse individuals from six of the seven continents as President of the Providence Management Group, a media and public relations firm, and as manager of a Chick-fil-A franchise. He is a founding Board Member of the Gloucester Institute, served on the Board of Elijah House Academy and the Richmond Christian Leadership Institute and as a Pastoral Deacon for 14 years at Kingsway Community Church.
Chief Brown is a graduate of Howard University and the Virginia Executive Institute at Virginia Commonwealth University. He and his wife Nita live in the Richmond area with their two adult children.